Kim Simon's life was brutally taken from her on Wednesday, September 18, 1985.
She was just 16 years old.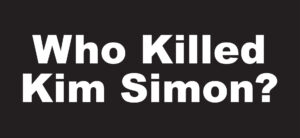 $5,000 Reward
NYS Crimefighters - Reward Offered Regarding Death of Kim Simon
#whokilledkimsimon
---
Kim Simon's life was brutally taken from her on Wednesday, September 18, 1985. She was 16 years old. It was a beautiful sunny day and she set out on foot to meet her friend Lynda Fiorini at the Whitesboro Junior High School. She never made it there. Upon contacting her concerned parents an all-night search was set up to find her.
The following day her body was found in a wooded area off of Mohawk Street in Whitesboro, the same route she was taking to meet her friend. She had been beaten, sexually assaulted and strangled. Shortly after her departure witnesses saw a husky, blonde-haired man driving a red truck talking to Kim on Mohawk Street.
In 1989 Steven Barnes was convicted of this crime and spent 19 years in jail. Thanks to the Innocence Project, Steve was found to be innocent and was released in November of 2008. A full-blown task force was immediately set up to find her killers and to this day they still walk free. Witnesses had seen her at some point in the evening at a Satanic party at a place called Three Bears. They claim she appeared to have been drugged and out of it. Kim would have never gone there willingly.
Another party was taking place that evening on Middle Settlement Road. Certain evidence found suggests a link to a male individual who attended this party. This individual passed away before the task force investigators could reinterview him regarding results from a DNA sample taken from him.
It is believed that Kim may have been assaulted and strangled at a different location other than where she was found.
The task force did interview several of the original investigators and they provided no additional information to assist the investigation.
Kim was a beautiful, kind girl with a contagious laugh. She came from a wonderful family. Those who knew and loved her will never be the same. She touched so many people and our search for justice and closure for her, her family and friends will never stop.