About Kim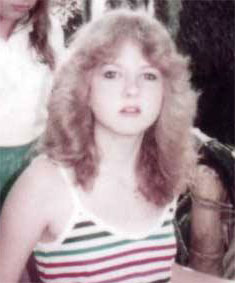 Kim was a kind and caring teenage girl. She was humble and decidedly quiet until she got to know you. 
Once she did – she was undeniably fun and full of life and laughter.  She was exceptionally pretty but never thought of herself as such. Her intelligence was high and possessed a true gift for math despite the fact that she never needed to study much. It all just came naturally to her.
She was a typical teenager of the 80s with her life revolving around family, friends and her boyfriend.
She loved music, parties, football games, going to the mall and talking on the phone for hours on end.
Mostly, Kim was someone you could trust – she was true of heart and cared about the important things in life.
Imagining the horror she went through the last night of her life has been beyond a struggle for those that knew and cared so deeply for her.